Oh man. Late with posting this sketch even though I did it right when I saw Run to the Wild post it up on her blog. Now I really need to make this link up work!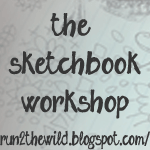 Second prompt. Put Pencil down on paper. Close your eyes, let pencil roam. 15 seconds later open eyes. Make something out of your scribbles. Awesomeness. lol
I need to find more of this type of link-ups out there!
Monday is coming to a close meaning I just finished working out, I get to work out again tomorrow at bootcamps first day! Let's see how this goes.